My Hypothesis ( In my head I said Hypothesis with a posh english accent :)) was that with this experiment it would come down to one key factor and that was the confidence I portrayed. This was confirmed in my findings…..but let me explain this a little bit more!
For those of you who have not seen my IGTV videos of how this experiment came about they are attached below, but in short this experiment was bred from a bad accident I had where I broke my face. I broke both my condylar processes and split my chin in such a way to have bone protruding into my mouth. This caused some serious trauma, facial palsy at the time, my face is now held with plates and wires and I personally see myself differently when I look in the mirror ( thats the short of it, but for the more in depth mental thought process that played out please watch below) Just so I don't bore those of you who may have already sat thought that 🙂 x
When I decided to do the experiment to not wear any makeup for a week I knew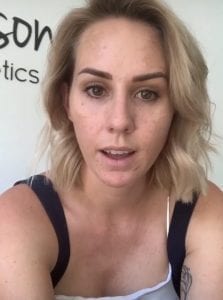 within myself that it was less about wearing no makeup but more about how I was showing up in situations when I was makeup free or even just not feeling my best self, ie had pimples, bad hair day, moody and hormonal, mum guilt, you know the drill. What I would tend to do on those days was that I would act less confident,  I would greet people with a softer sheepish tone in my voice, (who even am I) I was pre-empting that they could see exactly what I could see of myself, this illusion I was creating in my head of a less important, worthy me. 
During the week, I worked, went to school and daycare pickups and drop offs, did groceries, had catch up with friends and even went to a friends evening birthday drinks all makeup free. 
No matter how I felt on that day I had to tell myself that I am ok just as I am and had to approach every conversation and situation as if I was my most confident and you know what…..I didn't get one "you look a little tired today" now I'm not saying that maybe people didn't think it but what I believe happened is that my energy shone through and they saw happy and confident but for the ones that maybe thought "Oh, she doesn't look her usual self" or "oh she looks a little tired" they didn't feel they could say that because my body language said "I don't care what you think" 
 Now for me being makeup up free most of the time doesn't feel like my best self, i've always been taught to take pride in my appearance and put my best foot forward,  especially for work with the industries I've always been in, I want to look professional and represent what I believe in.
What do I believe in? I believe that women should own who they are, faults and all, find the things they best think makes them so uniquely them and play those things up. Own your individuality. (So completely easier said then done however I still stand by it) 
I hear it all the time that women don't have enough time in the mornings to put a little effort in with their makeup or hair, they are busy with the kids. For me personally, that week of not wearing makeup didn't give me a whole heap of new found time and freedom to work miracles around the home or spend quality time with the kids, because quite frankly getting myself ready in the morning in a way that makes me feel better takes no more than 15mins and that bit of me time is well worth it. That 15mins for you might look like making a green smoothie or picking a special outfit that makes you feel great. Maybe just give it a go and see how you feel. But know also……If you have had a shit day, if you just can't manage to pull yourself together like you usually can, don't beat yourself up over that either, own that shit to!! We have all been there.
I had quite a few woman send me private messages over the course of the week telling me of their own personal struggles, new mums feeling shame about their bodies, a lady who had also gone through an accident and had to adjust to the "new" them, girls dealing with anxiety and depression, thanking me for being brave and honest ( something that smacked me in the face as I was not expecting these messages) and it very much confirmed to me that we are ALL THE SAME!!! 
If you take nothing away from this just take that. That person you see everyday that you aspire to, that TV personality, that influencer,  that work colleague or the school friend, they all think the same, in some way shape or form, they are having a parallel struggle with something, having that doubt, I Promise you that! The only difference is how they show up everyday. The energy that you project matters so much more than anything else. You got this!! To hell with doubt!
 #doubtshmout 
Love Emily xx